A reborn baby or reborn doll is a very realistic lifelike doll that is created from either an ordinary play doll or from a blank kit. The main goal is for an artist to add every touch from paint to rooting the hair one by one to make the doll look and feel as true to life as possible. It is a great compliment when someone mistakes a doll for a real baby since we all strive for such realism. Every baby is truly a work of art and is designed with the mature collector in mind. They are not recommended for children or for play. As you'll see from the pictures below, there is such a difference from the blank vinyl to the finished baby.
Here is a blank kit without any paint. The kits come to use just like this. I then wash them to remove any factory residue. After that layer upon layer of Genesis Heat Set Paints are applied. These paints are applied one layer/color at a time and then baked to set the paint and make them permenant. This process takes many days but in the end you will start to see what looks more like skin than vinyl. Each layer has to be applied just right and with precise color combinations. Every baby is unique and every artist has different techiniques on how to achieve the perfect complexion.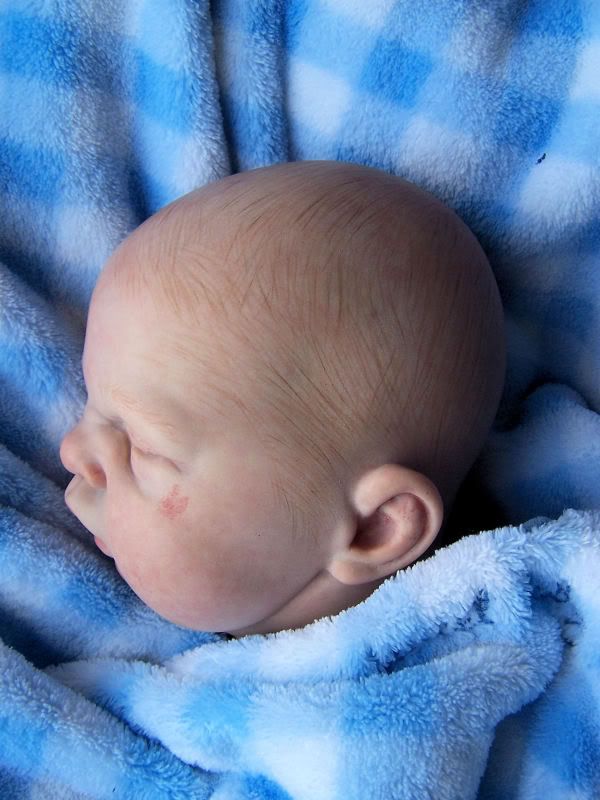 Light veins are added and capillaries are painted in to make the skin look even more realistic. Quite often I'll choose to give my reborns "stork bites" since many babies are born with these marks. This baby has one on her cheek. I then gave her twin sister one on the opposite side to make them mirrored twins. As you can see in this picture, I also drew in fine hair all over her head before rooting. This adds another dimension under the rooted hair. For the hair, mohair (goat hair) is most often used but recently I also started using alpaca hair. It can be dyed to many natural gorgeous shades and is so soft just like a real baby's is. The rooting process is normally the longest one. It can take up to 30 or more hours to root one head since one to two hairs are rooted at a time.
But in the end, all the time is well worth it! The transformation from the kit above to the baby below is incredible!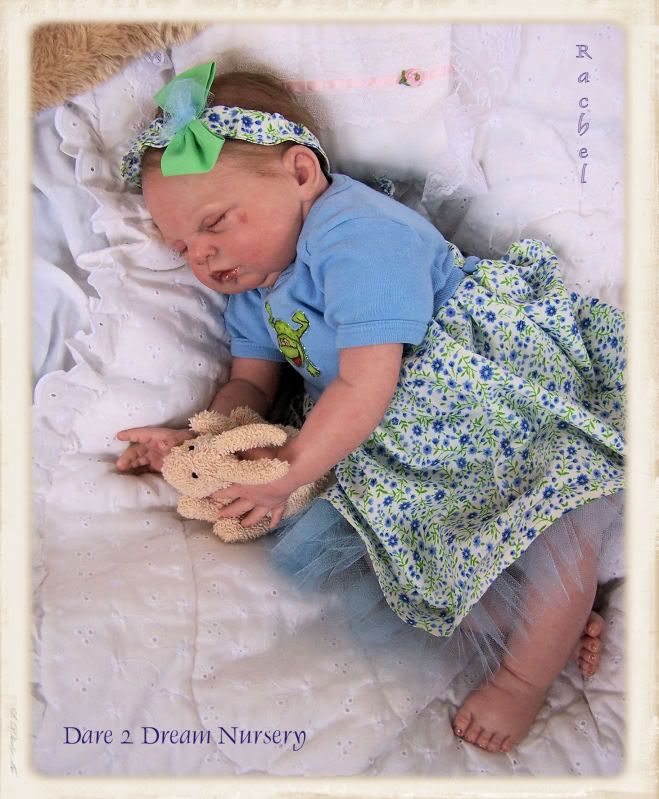 Each baby is given a cloth body and many times I will give them a soft flannel body in a beautiful pattern. This way they look oh so cute "naked". They are then weighted with fine glass beads and polypellets so they have the heaviness and feel of a real baby. Their heads need supported just like an infant's does.
___________________________________________________________________ 
If you want to be notified when a new baby is available, please subscribe below!