I have made many custom reborns over the years. I work closely with each individual so that together we can achieve the baby you are looking for. With a custom reborn, you get to choose:
The sculpt or kit if you have a preference or we'll work together to figure out one you like

Hair color and texture like curly, straight or wavy

Painted hair options

Eye Color if awake or you can choose a sleeping baby

Complexion: mottled and blotchy, peaches n cream, ethnic or something in between

Magnetized pacifier and or hair bow/s

Gender
Prices vary depending mainly on the kit chosen. The kits (which are just the vinyl limbs and head) can range in price from $30 on up to $150 or more. Beyond that, there are many other costs that go into reborns such as the mohair, paints, eyes, weighting materials, cloth bodies, stuffing and an outfit or outfits. Then there is the time to consider. These babies take me roughly 4 weeks to complete. If you are interested in a custom reborn, please contact me and we will go over what the cost will be. My custom orders start at $450 and go on up to $1000 or more depending on the above specifics. I will let you know what the estimated shipping is at that time as well. Most often it will cost $25 to ship within the US and about $60 outside the States.  I accept paypal and postal money orders as forms of payment. I do require a nonrefundable deposit of 1/3 the total price to start on a custom with the balance due after the baby is completed and you've seen pictures. I can also work with you on a payment plan or layaway option on already made reborns.
If you have a picture of a baby, I can work off of that and create a custom baby to resemble your child or grandchild. Our children grow up so fast or unfortunately leave the world too soon, so many times it's nice to have a reborn that reminds you of them. Below is a reborn I created to look like my son, Remington who is already growing up way too quickly!  He started out as a Barry sculpt by Adrie Stoete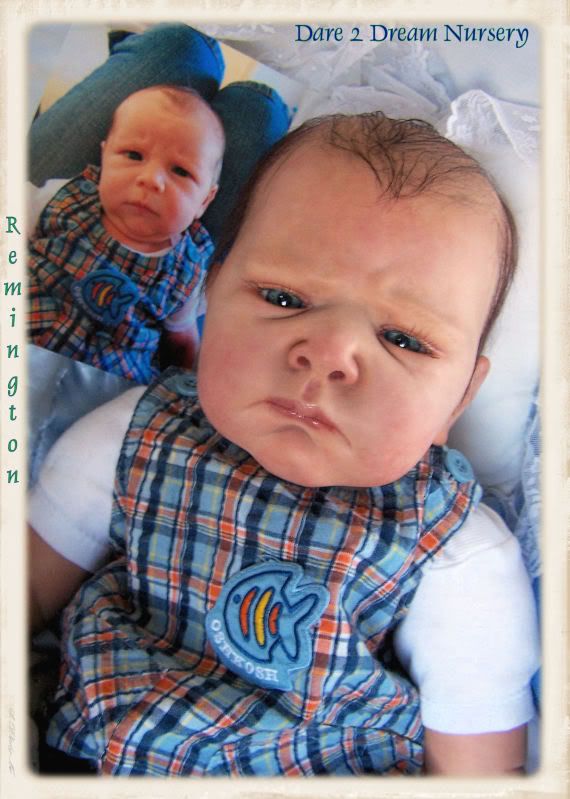 For the little girl below, the mom wanted her to look similar to the prototype of this doll so I used those pictures as a reference and made changes to make her my own creation and also what her mom wanted. She now resides in Canada.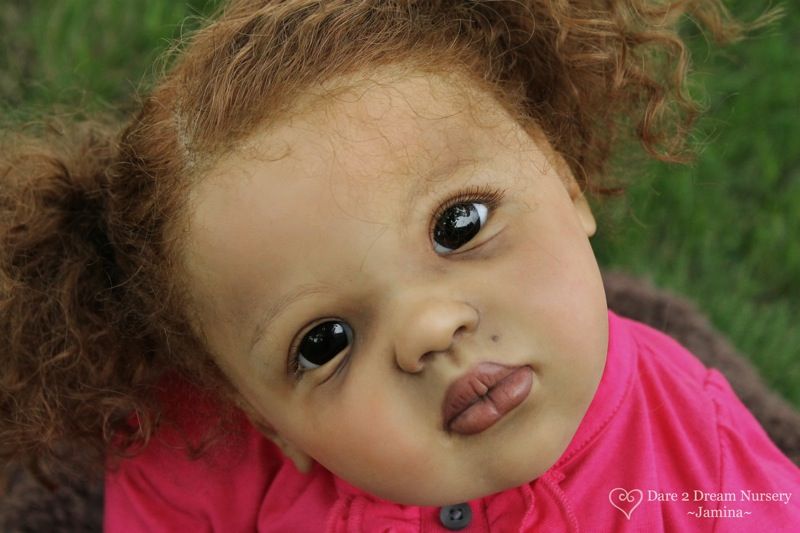 On the baby below, the mommy wanted a reborn to look like her daughter. She sent me pictures to go off of and we worked closely to create this beautiful African American baby girl.